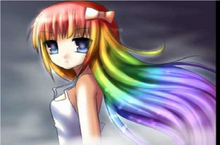 rainbow is a song when night core singing it but the song its very from the anime billboard chart from the number 20th. but the things Is very complete the Manga band group named night core win the anime group awards and they sing rainbow in 2011. but things of yours is was pass away from mar 6 2011 and night core makes a new album in Sep 6 2011 and they put a each group together. but they have a new album now.
rainbow
night core
Released
Sep 24 2011
Recorded
Nov 6 2011
Length
ja length
Label
Sakura records
Produced by
ken blue and night core
Ad blocker interference detected!
Wikia is a free-to-use site that makes money from advertising. We have a modified experience for viewers using ad blockers

Wikia is not accessible if you've made further modifications. Remove the custom ad blocker rule(s) and the page will load as expected.